Interview with Squid (may/june 02)
James "Squid" Shaw, tour manager and sound engineer for Mercury Rev, was nice enough to let me e-mail him a few questions for this little interview. A pretty interesting peek behind-the-scenes, I think. In the interim between me asking and him answering, I was lucky enough to meet him at the Rev show in San Diego.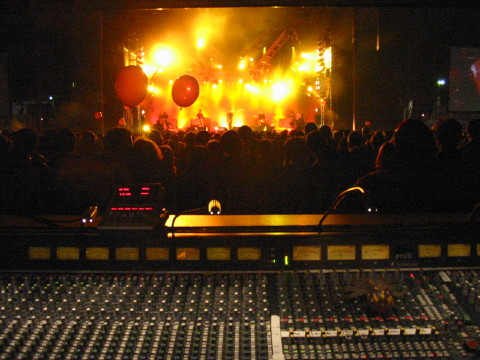 ---
How did you come to work with Mercury Rev? Were you a fan of their older stuff?
Not really a fan. By per happenstance I saw/worked their first show. I helped set up the PA (but didn't mix the show) for their first show at BJ's in Fredonia, a tiny bar that fits about 100 people. It was insanely loud. Pink noise with flute struggling to get over the din. Wasn't sure what to think of the group at that point.
Years latter Jeff and Dave and others gave me a call saying the rev needed someone, and at first, with memories of the first show, I was not interested. But Jeff talked me into it, and it's all his fault.

How is it working with the guys? Mercury Rev is a band with a history of volatile relationships and "low points" off-stage; is everything going smoothly within the band these days?
Everything is going pretty smoothly these days. Of course any touring, lots of travel, checking in and out of airports, new places and strange situations all add to the stress and everyone has there ups and downs, but the guys are getting along well, and always working together to put on the best possible show.
There has been a lot of talk in the past few years about the band possibly releasing a live album. How close is this to reality? Is it true that every show is professionally recorded? Are you directly involved with that?

I wouldn't hold your breath, but somewhere over the rainbow...
Every show is not necessarily "professionally recorded", though all the shows are recorded with some rare exceptions due to technical reasons. I record all the shows from the sound desk with some microphones on the audience mixed in, but these recordings are rarely good enough for a "pro" live album. Though some of these recordings have showed up on the web site and on the B-Sides of the Dark Is Rising UK and EU singles/DVD. Once in a blue moon the show is multi-tracked, and a collection of these is slowly building, to see the light of day.......
How are live versions picked for release (as b-sides or whatever)? After a show, do you/the band make notes, like "great version of Hercules," to make it easier when the time comes to choose, or does someone just listen to all the shows later?
I listen to all the shows and make some notes. The band checks out things on the bus once in awhile. Some of the mp3's on the site are ones I picked out.
The B-sides for the singles were selected by Jeff, and he went through and listened to all of 2001 and picked out the tracks.
I just heard the band has already begun working on their next album. Any truth to that? And if so, any chance they'll preview some of the new songs live?
No, they aren't quite yet in the process of writing songs for the next album, they probably wont get heavily into that until touring on All Is Dream is done. Some rough ideas may come to them on tour, but nothing is done live in advance, as most of the song writing process is done at home, and many times the end result is unknown until the final mix. So don't expect any "live previews" at the moment.
...Though I know that would be a little out of character for them, as they almost never seem to play new stuff till the albums are done. What are the band's soundchecks like? Do they ever use that time to flesh out new song ideas?
Not really, they might go over some covers, or a back catalog song that they haven't done yet (me, I'm hoping Empire State gets beyond it's two rehearsal appearances, but I'm not counting on it!) Otherwise soundcheck is pretty standard fair of checking some of the songs in the show, the last being the first In the show. That is till the tail end of the tour when things get a bit more chaotic...

Personally, I love it when a band throws an obscure/unexpected cover song or something into the set to mix things up. Can you think of anything out of the ordinary you've seen the band play? I know in the past year they've played "Planet Caravan" and a John Cale song a few times.
Planet Caravan has popped up, we recorded that for the b-side of The Dark Is Rising. Blue Skies by Irving Berlin though that has never been done live. Raindrops Keep Falling On My Head (Deserters Songs Tour Promo)? Cortez the Killer popped up on this tour maybe twice. I Keep A Close Watch by John Cale on the last run in the EU. I Shall Be Released (Deserter's Songs, maybe only once in Italy). I Don't Want to be a Solder and Isolation by Jon Lennon (Deserter's Songs Tour). Hmmm...... Oh yes, not done live yet, but the Bob Dylan tune Tweedle Dum and Tweedle Dee was enjoyed by some local crews at soundcheck.
In a published review of an Australian show at the end of the DS tour, the reviewer mentioned a new song "Sunlight".. a song that "shone and sparkled a perfect gloriously pop sonata." No bootleg recordings of it have surfaced, and it obviously wasn't included on AID (at least, not under that title), so us fans are a little perplexed. Can you shed any light on this song? (the review in question is at http://www.thei.aust.com/tssmusic1/mercuryrev.html)
No idea what the reviewer is talking about, I don't have the tapes in my possession, so I couldn't say what they are referring to, but most likely the reviewer has not correctly identified the song. I think the reviewer was a bit confused as the drummer is listed as Dave Sean Mercel (all rolled into one?!). But glad they enjoyed the show so much.
Mercury Rev seems to stick to a somewhat standardized set list these days. I assume this makes things easier for you from a engineering perspective. Do you prefer a routine show, or is it more fun really being on your toes?

Well, weather the show is the same or not, it always keeps me on my toes.
The set doesn't vary much, every couple of shows something's may be inserted/cut/moved. They try to vary things up when they return to a city that they did earlier in the tour. Other small things change, such as the fact that we have a new intro for the current shows.
What's been the best show so far this tour in terms of sound/acoustics etc.?
The last one in Portugal, outdoors, line array, excellent.
Which part(s) of the world does the band seem to get the best audience reception? (and dare I ask, worst?)
The UK, France, and Holland have some of the best crowds, Ireland and Scotland get a bit extra rowdy. The worst? Well, we have played for some small crowds (such as in San Diego) but even small audiences in the US are good, no fruit being thrown on the stage anywhere...
It must be tiring being on the road so often, eh?
Not for me too much, I sort of dig the nomadic life, though in tight schedules with few days off, and airline waits and security checks, and planes and trains and automobiles, and airport duty free malls and hotels with bizarre phone systems that the French invented to keep us off the internet, and venue showers that spit out cold drip....drip.....drips of water, and nights of little sleep......
Do you have a favorite Rev song?
Empire State, Frittering, Holes, Lincoln's Eyes.... I like them all really....

How did you first get into sound engineering?
High school and community theater, then on to college for a BS in Sound Recording (same place Dave Fridman went.) Moved out to California, moved from small clubs to big clubs.....
Are there any other bands you'd really like to work with if given the chance?
If Weather Report reformed, that would be the bomb. Pat Metheny? Ok, enough of that Jazz crap, Radiohead, Meshelle Ndecello (though I can't even commit the correct spelling to memory), hmmm..... Coldplay....U2 would be fun to mix.... Some phat metal band.... Monster Magnet gave me a call awhile ago, that might have been cool mixing. I like so much different stuff, and it's enjoyable to work with different styles, going for different mixes.
---
Big thanks to James for taking the time for this. You can visit his website at http://home.earthlink.net/~audiojack/