WRITTEN:
By Jane's in late '85 / early '86.

IN THEIR OWN WORDS:
Perry at a live show in L.A. 2/4/91...
"And now back to our early stuff. This is the first song we ever learned. This is how these guy's learned to play. Yes, in kindergarten smashing blocks on the floor, the three of them got together and said, 'Let's make a song, man.'"

From BAM magazine 11/21/97...
By the second song, Jane's are really testing Saturday Night Live's patience. At the last moment, the band decide to do the tribal "Chip Away," which calls for an arrangement of Steven, Dave and Flea on various drums while Perry wails--not exactly the sort of stuff Mariah Carey has in store for SNL viewers on the next show, but the sign on the stage does say "All Kinds Music Played Here."
"We were going to do 'Ocean Size,' but the heavy guitar thing has been done," Perkins tells me later. "Chip Away" certainly wins over the ever-growing sound check crowd. In fact, Jim Brewer, aka Goat Boy, finds he can chew gum while bobbing his head fervently to it. ...
They never do get their chance to play "Chip Away." According to the SNL powers that be, the second song is one of the first things to get cut when the show runs over because the music segments get the lowest ratings. Yes, all kinds music played here, just not lots of it.

LIVE:
* 1986-1991: Played occasionally. Often as the final song of the set. The guys would get down on the floor and bang on a cooler while Perry sang.

* Porno for Pyros also played this song, though rarely.
* 1997 and 2001: did "Chip Away" at almost every show. No longer using just a cooler, the guys upgraded to full size drums.
* 2002: Played occasionally. And on 8/19/02 in London, England, it was played with bass, guitar, and drums as opposed to the normal setup of only drums.

ADDITIONAL INFO:
* The guitar at the end of the song on the XXX album was overdubed by Dave in the studio. He never played guitar during "Chip Away" except for the album.
* Just who came up with the beat for this song is somewhat of a mystery. Most people assume it was Stephen, but some people think it was Perry, or maybe Eric. And some people believe the beat was actually borrowed from an old traditional tribal song of the Africans or Native Americans.
* There's an old movie called Angels with Dirty Faces (1938) starring James Cagney, Pat O'Brien, and Humphrey Bogart.


LYRICS:
i chip away
cause i'm not ok
so i
i chip away
poked a hole right into myself
and inside i found someone
who said i was ok
still i don't feel easy
on this tree
among the blossoms
caustically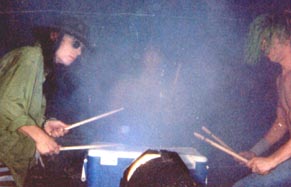 i am the thorn
close my eyes to take up spare time
i wish i just
could be where the crowd goes
with the crowd
they must be going somewhere
up from the catacombs
i ran into the Angel again
he took the high road
and i took the low road
we both wore dirty faces
we both wore dirty faces

i don't
i don't
i don't
don't feel easy
i don't
i don't
i don't
don't feel easy
uh! uh! uh! uh! uh!


FAN INTERPRETATIONS:
From John M.--
"I chip away cause I'm not ok"
= I do heroin when my life is boring and I want to get a 'heavenly feeling'
"poked a hole right into myself"
= put the needle into my arm..(make a hole)
"and inside I found someone who said I was o.k."
= the heroin kicked in and I met an angel...(I felt like I was in heaven)
"still I don't feel easy"
= I am still not sure if I am REALLY in heaven...
"on this tree among the blossoms"
= in heaven among all these beautiful angels..(heroin feeling)
"caustically I am the thorn"
= I don't fit in because I am only here because of chemicals
"I wish I could just be with the crowd goes" = i wish I could die... "with the crowd, they must be going somewhere"
= all the dead people must be going somewhere great like heroin..
"up from the catacombs"
= as I came up from death (as the heroin was wearing off)
"I ran into the angel again, he took the high road and I took the low road"
= as the heroin wore off... I felt my angel (heavenly feeling) leave me... it went back to heaven (high road) and I went back to Earth
"we both wore dirty faces..we both wore dirty faces"
= it made us both sad that we were leaving (the heroin was leaving).. heaven loves me..and I and love heaven
"I don't, I don't, I don't, don't feel easy"
= I am sure I am not in heaven now... coming down from heroin..


---