WRITTEN:
By Perry and Eric in late 1985.

IN THEIR OWN WORDS:
Excerpted from an old article...
"I'm in the midst of a traaaumaa." Farrell drawls the last word and hard, wringing out every last drop of self-absorption. He's onstage at the Roxy, in Los Angeles, early '88, part of a performance/reading thing emcee'd by Tim ("these aren't poets, man, these are prophets!") Leary, and featuring pop poesy from a number of LA's leading rock-and-lit luminaries (as well as some schmoe who reads from his bio of Jim Morrison). Seated behind a table, Farrell begins what sounds to be a very heart-felt account of what's right-and-wrong with the world. But the phone next to him keeps ringing. "No Mr. Record Producer, I'm not singing 'God is dead' in that song, it's 'God is Dad.'"
A little later the phone rings again. "Oh, hello Dad... No, I'm sort of busy." He looks out at the crowd apologetically. "Dad, I have some people over right now..."
Stephen Perkins interview in Modern Drummer, 3/93...
SP: Jane's only did thirty songs in six years. And all the Jane's tunes were written at the same time, which made things even worse.
MP: But then you run into the danger of all your songs sounding the same. Over a couple of years, your style is bound to change.
SP: That's true, but each song with us (Porno For Pyros) sounds so different. That's the way it was with Jane's. You couldn't tell they were written at the same time, but they were. "Three Day," which is a ten-minute tune, might have been written on the same day as "Had A Dad," a three-minute song on a different album. But we definitely want all the songs to sound different.

Steve from a WB press release for Kettle Whistle...
"The version of 'Had A Dad' is killer. It was an outtake from the Nothing's Shocking sessions that Warner's declined because they said it was too produced! We had tried some new ideas, and we thought we'd really achieved something. This version has lots off cool textures, as opposed to the more rock thing that Warner's was looking for. Now, the people at Warners love the track!"

Steve still talking about the Kettle Whistle version 11/97...
" 'Had a Dad' is a version Warner Bros. rejected because it had piano and chimes and backward sounds on it and goes into some very weird places," Perkins explains. "It's definitely a journey, and we always liked that version better."

LIVE:
86-91: Played occasionally.
From the Nothing's Shocking tour ('88) and on, they played a funky intro to it.

97: The Relapse never performed "Had A Dad" in concert, but they played it at some soundchecks and rehearsals.
Played seldomly in 2002.

ADDITIONAL INFO:
* According to the Australian version of Live & Rare, "Had A Dad" was written entirely by Perry. But then again, it also credits "L.A. Medley" solely to 'Morrison'... so it can't really be trusted.

* Jane's made a video for a demo version of "Had A Dad" in late 1986 or early 1987. It was very low-budget... Basically just them jumping around somewhere in the Hollywood hills. The video got played at least once or twice on MTV.
The demo was released as a b-side to the "Been Caught Stealing" single.

* A live version (3-10-89 Rivera Theatre, Chicago) was released on "The Shocking E.P." vinyl. It was later included in the Live And Rare import as well.

* From Guitar World, 9/91... ("rock party line" phone interview with Trent Reznor and Dave)
GUITAR WORLD: And speaking of mutual influences, on the liner notes to Pretty Hate Thing (sic.. I think he meant 'Machine'), Trent gives credit to Jane's Addiction for "ideas and sounds."
TRENT: [embarrassed] Actually I sampled a little of "Had A Dad." But at the same time....
DAVE: What did you sample? The drums?
TRENT: No, the scream and the drum fill. And there's also a guitar loop of that pattern going through the song. But at the same time, I really like Nothing's Shocking--not that this is let's lick each other's butts because we're all on the phone together....
DAVE: Yeah, right. Absolutely.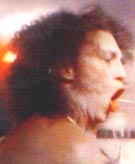 * from Rolling Stone, Issue 597, February 7th, 1991...
"'Had a Dad' was about feeling abandoned by God."

LYRICS:
Had a dad
Big and strong
Turned around found my daddy gone
He was the one
Made me what i am today
It's up to me now
My daddy has gone away...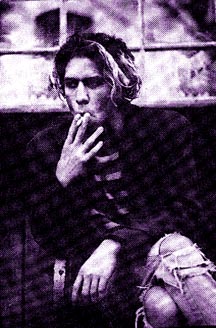 Well i spoke to the mountain
I listened to the sea
Both told me that the fountain
Was the best that you could be
My daddy's hand it around
Slow to the lickin
Sonny boy
Grow to whip him!
If you see my dad
Tell him my brothers
All gone mad
They're beating on each other
I walked around
Even tried to call
Got that funny feeling
He's not there at all...

NOTES ON LYRICS:
The lines...


i spoke to the mountain
i listened to the sea
both told me that the fountain
was the best that you could be
...were originally written for "Mountain Song."



---