WRITTEN:
By Perry and Eric, late 1985.

LIVE:
* Played by Jane's occasionally in '86 through '88.

* During the Relapse "I-Itz M'My Party" tour in 1997, Perry and Dave played this as an encore at a few shows, often to thank/reward a great crowd. Dave played acoustic guitar and Perry sang.
* Also played once in a while in '01 and '02.

* Porno For Pyros played this occasionally as well. Also with acoustic guitar, as opposed to bass.

ADDITIONAL INFO:
* At the first show Perry and Eric ever played together, it was only the two of them... Eric playing a repetitive bassline, and Perry improvising poetry. Someone close to the band once told me "I Would For You" might've been conceived that night... but he couldn't remember for sure.

* In Jane's early days, Dave sometimes played keyboard on this song.

* Limp Bizkit has raucously covered "I Would For You" live (available on the Family Values: Tour 1999 cd) and there's also a version on their Rollin' cd single.


LYRICS:
Oh baby
I'm so tired
A man, from the government
Man, from the tax board
Man, in the public school
Man, own's the golden rule
I'm everybody's slave
I made you my slave
You said
This I do for you
If I would help
To give the world back
What it gave
Then I would
I would
I would
I would
I would for you
I would for you
You say my eyes
Are crazy eyes
Sometimes they are
And so are you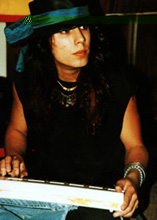 And if you wonder
What I would do
I would do
Anything
If I could
You know I would
I would
I would
I would for you
I would for you
I would for you
I would for you, Case
I would for you


NOTES ON LYRICS:
* The lines prior to "I'm everybody's slave" were improv by Perry. They were only sung at the show the album was recorded at (Roxy 1/26/87)... not at any other know live performances.

* The line "I would for you, Case" is a reference to Casey Niccoli, Perry's girlfriend at the time.



---