WRITTEN:
By Jane's in early 1986.

IN THEIR OWN WORDS:
Perry at a show in 1987...
"This song is about the gangs, man... L.A. gangs... Bunch of fuckin' shit. Gangs are a bunch of fuckin' shit, man. Only thing worse than a gang is the government. Anybody who don't care about that shit is 1%"

LIVE:
* 1986-1991: Played occasionally.

* 1997: played "1%" live only once (at the homeless benefit in Bel-Air 11/26/97). Also at a few soundchecks. Additionally, a scene of the band playing the song backstage is included in the Three Days film.
* 2001: played only once (11/4/01 Rose Garden Arena, Portland, OR)

ADDITIONAL INFO
Bikers have a saying..."99% of people are law abiding citizens"
Adam adds..
There's a cool old book by Hunter S Thompson about the Hell's Angels and in it there is a reference to 1% "the one percent that don't fit and don't care". Perry at one pt mentioned this book (sorry, forget where). I think his brother (?) hooked him up with it. Funny thing about the book is that it makes the pt that bikers are not individualists but rather conformists (albeit to a different code). Perry explicitly references gangs in the song (just like the government).

LYRICS: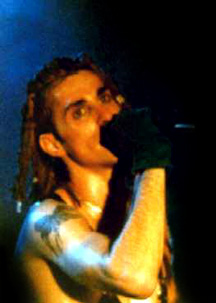 all the people i know wanna be left alone
some people!
i don't know?
they wanna leave you alone
you gotta be just - be just like them
biggest gang i know they call the government
gang is a weapon
that you trade your mind in for
you gotta be just - be just like them
the gang
and the government
no different
the gang
and the government
no different
the gang
and the government
no different
that makes me
1%
that makes me
1%
trouble comes down

like a foot steppin heavy
shake your fist
at the bitch
or wave your money
you gotta be right
you gotta be right
don't be no
supper for a big fish
with the big lip
and the over -
bite - bite
you gotta bite
bite - bite - bite - da bita
bite - bite - ba da da bita
bite - bite - bite - bite
bite - bite - bite - bite
all the people i know wanna be left alone
some people!
i don't know?
they wanna leave you alone!
you gotta be just - be just like them
the gang
and the government
no different
the gang
and the government
no different


the gang
and the government
no different
that makes me
1%
that makes me
1%
that makes me
1%
that makes me
1%




---