(original version)

BACKGROUND:
"Suffer Some" is possibly the last unreleased Jane's song from their original incarnation... or at least the most popular original Jane's song that hasn't officially seen the light of day. It was left off of Kettle Whistle because the band didn't consider it a finished song.
In fact, they pulled some elements of it for other songs. Perry used a similar vocal style for part of "No One's Leaving." And a bit of Dave's guitar solo was used in his "Three Days" solo.
A studio version of "Suffer Some" was recorded in mid '87, but that was a really just a rough demo and never meant for release.
Several years later, Jane's worked up a new version of the song. They've played it live several times in 2002, and it will likely be featured on the forthcoming album, Hypersonic.
WRITTEN:
By Jane's in late '85 / early '86.

IN THEIR OWN WORDS:
Perry at a live show in January '87...
"This is about rich girls, it's called 'Suffer Some.'"

LIVE:
Played occasionally from early to mid '87.. and probably a few times in late '86 (there're a couple short jams in the soundcheck on the show found on the Live 1986: The First Recording cd).
It was always played as a medley, with "Pigs In Zen" directly following. In fact, the ending of "Suffer Some" was included as an intro to "Pigs" on the XXX album, recorded live on 1/26/87.

AVAILABLE:
* The studio version of "Suffer Some" can be found on the CD bootleg Song List, as well as Classic Versions (where it's mislabeled as "Scream").

* There are also a few live tapes with it, like 1/22/87 UCLA and 7/8/87 Sacramento.


LYRICS:
She's so lucky that she's gotta suffer some
Left her happy home, began to drink and slum
She's got problems, come on, name me one
She saves her problems for making new friends
She's gotta suffer some, be like everyone
Gotta suffer some, gotta suffer
She buys her drinks down at the Scream
All her friends they say that she is dumb
Found how much she had, where she's from
They think that she's got it backwards
We'd all be warm and wealthy if we could
Gotta suffer some, be like everyone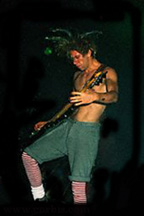 Gotta suffer some, she gotta suffer
She gets her drinks with someone else's ID
Baby, please help me baby
Oh, won't you please hit me baby
You'll find out money's like the covers
Find out who your friends are when you're cold
They're the ones who are allowed to touch you
And they are the ones who can understand your jokes
Gotta suffer some, be like everyone
Gotta suffer some, she gotta suffer
She buys her drinks down at the Scream


---