WRITTEN:
In early 1986 by Jane's.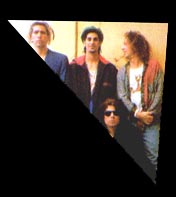 LIVE:
Played occasionaly throughout Jane's existance, 86-91.

A lot of times, the guys would play it while waiting for Perry to be ready for the next song. For example, when he would get his guitar for "Three Days."

The Relapse played this at two or three shows in 97.
ADDITIONAL INFO:
There's some question as to who came up with this ditty. Many fans assume it originated with Dave. Some claim it was pretty much lifted from an old jazz number.

LYRICS:
Thank you boys


---