Reviews of Deconstruction, American Recordings, 1994.



From CMJ New Music...

Dave Navarro's guitar wheels and dives, crashing into roiling surf, squawking like a great sea bird, all beak and claws. Then, borne aloft on salty gusts, silhouetted against a crystal sky, does it all over again. It's a performance worth the price of admission to the Deconstruction freak show - a CD by a dead band risen momentarily from the ashes of another dead band - but while you're around, there's lots to see. For example, how the green-dreadlocked huckster suckered everyone into thinking he was the only visionary in Jane's Addiction, and how, at least by proxy, he's responsible for your buying this album as well. Then there's Eric A.'s cold, dissecting voice (no tra-la-la's or walking naked through pepper sunrises), reading the personals like he's eye-witnessing Mexican gang executions, and vice versa. Finally, you can step back and admire this cut-and-paste monument to the blank page, reflect on its dispirited fin de siecle appropriateness, and hustle back to the main stage to catch the Red Hot Chili Peppers and another one of Navarro's guitar raveups.
-- Mark Schwartz


---
Recordings -- Deconstruction by Deconstruction
Rolling Stone; New York; Oct 20, 1994; Sinclair, Tom;
ACCORDING TO ONE OF ROCK CRITIcism's more debatable maxims, few bands have more than three good albums in them. As if in deference to that rule of thumb, Perry Farrell, ringleader and singer of the late Jane's Addiction, pulled the plug on that band soon after its third album. It was a perverse move--Jane's Addiction were at the height of their popularity--but it ensured that the group's place in rock history would remain untainted by charges of careerism or declining inspiration.
Two former Jane's Addiction members, guitarist Dave Navarro and bassist Eric Avery, have gone Farrell one better: After forming Deconstruction with drummer Michael Murphy, they recorded one album and then called it quits. (Navarro now plays guitar with the Red Hot Chili Pepper) Deconstruction, the band's hello and goodbye, provides a fascinating post-script to the Jane's Addiction story. The songs, most of which clock in at somewhere near the six-minute mark, are elaborately constructed tone poems that unfold in a loopy, nonlinear manner characterized by abrupt instrumental mood swings.
Typical of Deconstruction's mercurial musical nature is "L.A. Song," which begins with tastefully mysterious acoustic guitar and portentous lyrics. Just as you're slipping into the sleepy groove, blasts of choppy, skewed funk guitar burst in; moments later the song has changed shape again, and Navarro and company are scaling the heights that Jane's Addiction reached on their 10-minute opus, "Three Days."
Similarly, "America" moves through a number of disparate sections so seamlessly that you barely notice the song's seven-minute length. "Single" begins and ends with an increasingly hackneyed device--spacey noodling backs voices reading from a personal-ads column--but its middle section seethes, rumbles and scorches as Navarro muses over a less-than-satisfactory coupling and wrings torrents of epic noise from his guitar.
As you may have gathered, traditional pop-song structures are pretty much nonexistent here (one exception being the moody "Son," an open letter from a young drug addict to his mom). Despite their pretensions, however, Deconstruction's arty concepts do jell into a coherent whole, and the short-lived trio has left behind an album of remarkable complexity and grandness, a crazy quilt of folk, metal, funk, fake jazz, thrash and post-beatnik poesy. To what extent Navarro's restless avant-garde stylings will be submerged in the more earthbound context of his new gig remains to be seen, but Deconstruction will provide challenging listening while the jury is out.
---
From CMJ New Music Report...

Upon the demise of Jane's Addiction, bassist/vocalist Eric Avery and guitarist/vocalist Dave Navarro formed Deconstruction, setting out on a decidedly more musically exploratory venture. Before the release of this eponymously titled debut, the band had already disbanded, as Navarra was recently enlisted by the Red Hot Chili Peppers. The subsequent one-off not only contrasts with the catalog of Addiction material, but is also within itself an album of structural contrasts and moody, jarring conflicts. Addiction similarities, for the most part, end with the album's sharp, funky kickoff, "LA Song." Indeed the remaining tracks sound more like a mix between the sprawling, driving concoctions Alice In Chains might have gone on to release had they not instead emerged with the acoustically tinged Jar Of Flies and the tonally casual melodies of the Egomaniacs. The songs can be heady at times, overwhelming the listener with their unconventional constitution and weighty lengths, but those who wade through the album's 71 spacious minutes are in for a pure brain snack-a palatable treat that not only instantly satisfies, but works your cranial cortex as well.
-- Aaron Clow


---

From All Music Guide...

AMG Rating: 4 stars (out of 5)
The first release from Eric Avery and Dave Navarro after the breakup of Jane's Addiction will neither seriously disappoint or impress Jane's Addiction fans. Avery provides a focus to his work that was often lacking in the recordings of his former band, and in fact fulfills many of the promises that were left unanswered in Ritual de la Habitual. Without Perry Farrell's indulgences, the music comes to the front, and Navarro's guitar still sounds amazingly both sloppy and tightly controlled. However, while credited with bass, Avery has obviously concentrated on the vocals for this album, as his playing is mostly buried in the mix, an unfortunate decision given his proven ability. Lyrically, Avery is less self-conscious then Farrell and is often a more convincing writer. Ultimately, however, this 71-minute album will only appeal to hardcore fans, because without the former band's exuberance, the music can seem overly long and slightly dreary. -- Daniel Orion Davis


---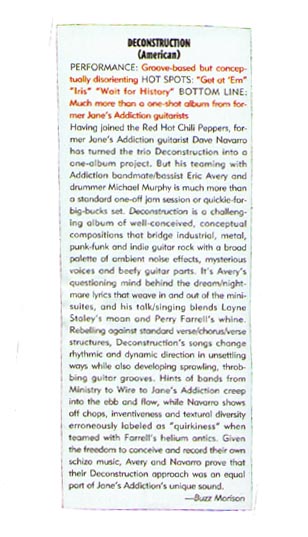 deconstruction