Jane's Addiction is one of the most influential bands of the past 25 years. However, not much is known about the early days of the band or the related bands that preceded it. Most people know a little about Perry Farrell in Psi Com, and some people know that Stephen Perkins and Dave Navarro were a metal band together.. but that's about it.
This page will attempt to shed some light on those early years, focusing mainly on Eric Avery.

Flower Quartet actually began as a trio in 1983. The guys were in high school when they started. They were young and not all that professional, but they had a good time. They played "psychedelic punk pop," as they called it. Eric was on bass and sang some songs (including a love song called "Rainbow Girl"). Jack Gould played guitar and sang many songs (some titles were "Gathering Storm," "Transitive Times" [mp3], and "Temptation Says"). Chris Shepard was the drummer and sang one song titled "Yasmin," during which Eric would play drums and Shepard would sing and play bass. Robert Murray later joined the band on lead guitar, making them an actual quartet and thus ruining the attempt at a joke in the band's name. Robert was best friends with Dave Navarro, and Eric's sister was going out with Stephen Perkins. Dave and Stephen were in a metal band called Dizastre.

Says Eric, "Jack Gould was a classmate of mine at Uni High School and a huge influence on me musically. He first played me Joy Division and the like. He wrote really interesting lyrics back then too, like 'Transitive Times.' I really did not write good lyrics yet (cringe)."


Flower Quartet played at a lot of parties. Their first show was with Leaving Trains (a band lead by "Falling" James Moreland) and a band called the Pandoras (who would later spawn the Muffs). Another party was with a band called Neighborhood Watch (a subsidiary of Suicidal Tendencies). "Needless to say we were a bit out of our element," Chris Shepard remembers. "We played our regular power pop stuff... but really fast. Punkers were slammin' and someone got stabbed."

In addition to parties, Flower Quartet often played at Hollywood clubs such as the Anti-Club and Cathay De Grande. Don Bolles, who did the sound at the Cathay De Grande, and was a former member of the Germs and Forty Five Grave, would sometimes sit in on guitar for FQ (this memory is somewhat disputed among the band, however). Don's most recent bands were Celebrity Skin and Three Day Stubble. At one show at the Cathay, Jack and Chris were backed by members of Leaving Trains.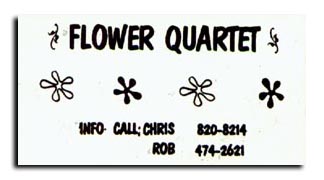 Flower Quartet recorded their first demo in the Palms area of Los Angeles by a sometime-member of Suicidal Tendencies. They later recorded a second demo at Radio Tokyo in Venice, California. David Roback produced it. He was in a band called Rain Parade at the time. He later formed a band called Opal with former Dream Syndicate bassist Kendra Smith, and after that formed Mazzy Star with singer Hope Sandoval. "The first demo was very raw and punk sounding and to my mind far superior to the stuff we recorded at Radio Tokyo which was way too clean and poppy," Jack recalls. The plan was to use a couple songs from the demo to put out a 7", but the guys didn't have any money to pay for that idea.

In late 1983, Flower Quartet broke up when Jack went away to Hampshire College in Massachusetts. Eric moved out to Hampshire in early 1984 (actually it was more like a long visit) and briefly played guitar in Jack's band at the time, the short lived Yellow Dog Contract. The bass player in that band, Shambie Singer, went on to be in one of the early Sub Pop bands, the Lonely Moans. Before Eric joined, the band was a three piece also featuring Jack on guitar and vocals, and drummer Ted Selke. Ted was going to school at UMASS at the time. He would later move to Atlanta, Georgia and play with a band called Arms Akimbo, who'd make a name for themselves in Southern post-REM underground circles. Additionally, Ted would later go on to play bass for a band called Mr. Crowes Garden for a couple years before they changed their name to The Black Crowes and got big.
Yellow Dog Contract played Jack's songs, including several holdovers from Flower Quartet's repertoire, including a song for which Eric wrote the music called "Remembrance", which had been earlier recorded by Flower Quartet with Eric on vocals (mp3). Ted came up with the band's name, a random legal term he picked up in class, a requirement by a firm that the worker agree not to engage in collective labor action (not enforceable in the US). The band only existed for about six months, with Eric joining on 2nd guitar for the last six weeks or so. They only played a couple shows with Eric: a gig at The Tavern at Hampshire College in April '84, and an outdoor party at Ted's house the next day. Of the party, Jack recalls, "It was a late afternoon show, by a barn and there were bales of hay all around. I was playing my black telecaster and Eric was playing my rickenbacker (which I would soon stupidly sell to Shambie for what seemed a the time colossal profit of $100, so I could buy a strat, both the tele and the strat would later be stolen, but that's another story). Anyhow, that was a good show. We talked a bit about continuing Yellow Dog Contract into the Summer of 1984; moving south to Birmingham, Alabama (where Shambie was from) to get jobs and the like. Eric wasn't into it, he wanted to get back to LA and start playing with Chris Brinkman."
Eric returned to Los Angeles, while Jack headed to San Francisco. They would soon meet up again in Southern California when Jack, his brother Herman, Eric, and good friend Chris Brinkman formed a band called Scrunge in the summer of 1985. Like in Flower Quartet, Jack and Eric split main songwriting duties. One song they did was an old one of Eric's called "Shocker", the first song Eric ever wrote. Chris wrote and sang some songs too, including one called "Woman with a Beard" that drew comparisons to the band Flipper. Scrunge recorded one demo tape, which has unfortunately been lost.
Scrunge played live just a handful of times. Says Jack, "I remember a couple of poorly attended show at long defunct westside clubs the Music Machine and Club 88, both on Pico Blvd. We played a really cool party at Chris's huge house across the street from UCLA that also featured a set from DC hardcore band Government Issue and a Zeppelin covers jam by Eric, and teenage Dave Navarro and Stephen Perkins."
During the Scrunge days, Eric met Perry Farrell, then frontman for a gothic art-rock band called Psi Com. One story is Eric was working at a punk shoe and clothing store called NaNa's where a mutual friend named Barry introduced them. The more widely accepted account is that Carla Bozulich introduced Eric to Perry after hearing Psi Com was looking for a new bassist. Eric doesn't remember much about his brief time in the band, but recently recalled the following: "I jammed with Perry and the drummer from Psi Com which was my 'audition' for bass playership in Psi Com. That's where the groove for 'Mountain Song' happened. There was no guitar player if I recall correctly. I don't think I ever played with the guitar player from Psi Com. But I did jam at a party with Perry and the drummer. Maybe Psi Com songs were involved. But that is all my foggy memory will give me. Perry was restless and quickly wanted the two of us to start something new."
For a short while, Eric pulled double duty, playing bass in both Scrunge and Psi Com, including one show where both bands played. It was a large party in the desert at a ranch owned by parents of Jula Bell (bassist and co-founder of the Fags, Bulimia Banquet, and Bobsled). As the above quote from Eric indicates, Psi Com's guitarist had already left (legend has it he became a Hare Krishna). Says Jack Gould, "I felt so threatened by Eric being in Psi Com that I kicked him out of Scrunge (knowing full well he was on the verge of quitting). Chris stuck around for five minutes before joining the embryonic Jane's which initially as I'm sure you know was just Eric and Perry."

That party turned out to be one of the last shows for both Scrunge (which mutated into an all Gould Brothers' entity known as Scrunge Planet) and Psi Com, which dissolved before performing live under that name again. Perry and Eric forged ahead anyway. While writing music with Perry, Eric reached back for a couple bass lines he had previously come up with. One, lifted from a Scrunge song of Chris Brinkman's called "Womb Bomb," became "Idiots Rule." Another old idea Eric had been playing around with became the first part of "Three Days."
In August and September of 1985, they performed a handful of shows as a duo under the name Illuminotic, just jamming out, bass and vocals only (though Psi Com drummer Aaron Sherer did play with them at their first performance). Says Perry, "I'd holler through my vocal effects box. I'd do off-the-top-of-my-head lyrics dressed in a see-thru unitard." Eric adds, "Don't know what we were thinking. I would sometimes play bass, sometimes a chemical drum, while Perry sang through all his FX units. Improvisational. In fact, 'Pigs in Zen' was born when I started to play a bass line to what I could hear of a drum beat coming through the house speakers as we stood onstage waiting for the club to turn off the music. Maybe ten people there."
Soon they changed their name to Jane's Addiction (inspired by their roommate Jane Bainter) and Eric recruited his old friend, guitarist Chris Brinkman. Another of Eric's good friends, Matt Chaikin, from a band called Kommunity FK, filled in on drums. This original lineup played a handful of gigs around October-November 1985, including one show opening up for Gene Loves Jezebel at the Roxy in which Chris wore only underwear. Perry didn't think Chris was committed enough to the band, so he soon got the boot. While a sweet guy and great guitar player, Jack recalls, "Chris wasn't very dependable though as he was always taking off to drop mushrooms in the mountains for days on end and you never knew where or when he'd show up again. He ended up moving to San Francisco with this friend of mine named Yasmine" (same girl who inspired the Flower Quartet song of the same name.)
Rick Parker, of the band Lions & Ghosts, is said to have played a couple early Jane's shows as their guitarist--not as a member but filling out the sound. He was another roommate of Perry and Eric's at the Wilton House. A friend of Matt Chaikin's named Mark Pritchard joined on guitar for a few practices and one show (a downtown loft party that fire department shut down after four songs), but he didn't really fit either. Then they got another guitarist for a while, another friend of Carla's named Ed Dobrydnio (or "Ed Dino" for short). Apparently somewhat of a shady guy, Ed kept a low profile and didn't use his last name very often. Says Eric, "I remember that he came out to the garage where Perry and I were playing and he and his girlfriend had had a scrap. We all lived together at that point. But Ed was a little concerned because during their scrap they had broken the glass of his terrarium and his six-foot boa constrictor was gone. Needless to say, it was a little off putting, for a few days, knowing that a boa was loose somewhere in your house."
Ed was only with the band for a few shows around December 1985 through January 1986. One of those shows, 1-10-86 Black Radio, was recorded and has been shared between fans (link to download mp3s of the show). "I think the very first Jane's Addiction demo was recorded with Ed on guitar, but he was quickly dispatched thereafter," remembers Jack Gould. "You may find this hard to believe but the Ed/Matt line up was totally amazing. Maybe the best Jane's line-up ever. An interesting irony is that Ed was kicked out of the band for being a junkie! Imagine that."
Shortly prior to Ed's departure, Matt Chaikin left the band and was replaced by Stephen Perkins after Eric's sister introduced them. Stephen then suggested his friend and ex-Dizastre bandmate Dave Navarro to fill the open guitar slot. They took off from there and were signed to Warner Brothers a year later.

---

Epilogue... ("Where are they now?" and some connections)

Jack Gould went on to form a few bands, most notably Black Angel's Death Song (1989-1997). On their second album, Due Ragazza (1994), they recorded one of Eric's Scrunge songs, titled "Shocker" (mp3)
Jack is currently a photographer in the L.A. area. He still plays/writes music, too, and has recently played with Izzy Cox and the Eskimos. Black Angel's Death Song reunited for a show or two in 2007.

Chris Shepard is currently living in Fort Collins, Colorado where he runs an art gallery. Shortly after Flower Quartet disbanded, he sang in a band called Baby Girl English.
Ted Selke still resides in Atlanta, and now runs a record shop called Full Moon Records in Candler Park. In addition to Yellow Dog Contract and Mr. Crowes Garden, he's played in the bands Joybang! ('92-'96) and Eeyore ('98-'00), plus he ran a local label called Third Eye from '91-'97. His latest project is called The Seventh Ring of Saturn, which released their self-titled debut in early 2007.
Shambie Singer's Tuscaloosa, Alabama band The Lonely Moans released some stuff in the 1980s. He later moved to California and fronted a band called Palace of Oranges who released an album called Prepare To Greet A Guest in 2001.
Psi Com also recorded their demo/album at Radio Tokyo. Both Perry and Eric returned there to record early Jane's Addiction demos.

Aaron Sherer, Psi Com's drummer, again worked with David Roback on Opal's Happy Nightmare Baby (1987) and Mazzy Star's Among My Swan (1996). David Roback also produced Leaving Train's first record. Circa 1989, Aaron drummed with Savage Republic, another underground L.A. band of the 80s, for a few shows.
Psi Com's original bassist was a guy named Rich Evac, previously from a band called Afterimage. Rich also played for a while in Shiva Burlesque (a precursor to Grant Lee Buffalo), which at one time also featured Biff Sanders. Biff was also in a band called Four Way Cross, who were on the bill for one of the Illuminotic shows with Perry and Eric.
Carla Bozulich was in a band called Ethyl Meatplow (1990-1994) with Biff Sanders. Biff and Eric Avery would later get together in '95 and form the band Polar Bear. Chris Brinkman supposedly worked with Polar Bear a little in their early stages (this is somewhat disputed). Sadly, he died of a heroin overdose in 1997.
The band Lions & Ghosts have a song called "Wilton House" about, yes, THE wilton house, where singer/guitarist Rick Parker lived with Perry, Eric, and Jane, among others. The band's drummer, Michael Murphy would later go on to play with Eric and Dave in Deconstruction in 1994.
Early Jane's guitarist Mark Pritchard still plays music. He has a band called Roman Wall and played guitar on the song "Philo Beddoe" on Eric Avery's 2008 solo album Help Wanted.
Falling James was briefly married to Courtney Love, before Kurt. Courtney's band Hole released an album called Celebrity Skin in 1998. Celebrity Skin, the band she lifted the name from, also played the ranch party with Scrunge and Psi Com, and they later opened for Jane's Addiction around the time of Nothing's Shocking.

Dino Paredes did album art direction for Celebrity Skin (the band, not the Hole album) and Psi Com. He was also supposedly Psi Com's bassist for a very short time. He was later in a band called Red Temple Spirits.
There's an Alice Cooper tribute CD called Welcome To Our Nightmare released by Triple X Records in 1993 that features some musicians I've mentioned here, including Don Bolles, Jula Bell, Stephen Perkins (as part of the one-off band Cold Ethyl)... and most curiously, a track from the band Carnival Art features someone conspicuously credited only as "Ed" on guitar. Turns out this is Ed Dobrydnio, the early Jane's guitarist. Carnival Art, which also featured Brian Bell later of Weezer, put out a handful of releases between 1989 and 1992. Ed has pretty much vanished since.

There is a Jane's Addiction bootleg vinyl double LP called Mephisto Demos which includes a few early Jane's demos, plus several songs from some unknown band (which an unsuspecting buyer would be lead to believe was Jane's Addiction). There was a time when some fans speculated that these demos were from Flower Quartet or some other early band of a Jane's member, but they aren't. For the complete unraveling of the mystery songs, click here.



---
Pictures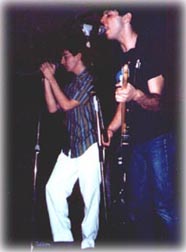 Flower Quartet (Chris Shepard and Jack Gould)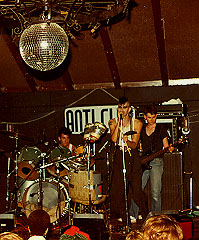 Psi Com
Dizastre
Carnival Art (Ed Dobrydnio on the far right, I think)
Yellow Dog Contract (Eric in the background, far right)
Jane's Addiction
---
Links..
general music info:
AllMusic
Trouser Press
band specific:
Jane's Addiction
Psi Com
Polar Bear
Black Angel's Death Song
---