Hi everybody! I hope you're all doing great. I gotta tell ya, I'm not really a very active trader these days because of the real world and stuff. Plus my 'wants' have gotten more particular over my years of trading, and I rarely listen to boots these days. So I hope you understand and don't get bummed if I don't get the chance to trade with you. Seriously! I sometimes get over a dozen trade offers a month, and only get around to like a couple of them.
Here's a tip: It would really help me out if you let me know specifically what you are interested in from me when you write me about a trade. And don't forget to mention the sound quality and length when you offer a recording. The more info you give, the better.. plus what format you're offering it on (cdr, dvd, etc). Setlists really help, too.
thanks.
Gavin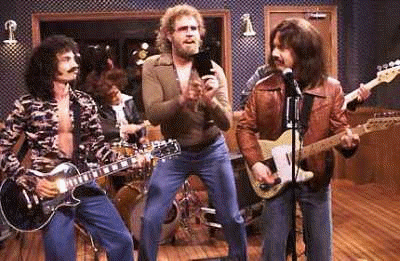 I'm interested in these bands..
Neutral Milk Hotel, Rilo Kiley, Three Mile Pilot, Paw, dig, Rocket From The Crypt, Mercury Rev, John Frusciante, Jane's Addiction (and related), Hum, Hopewell, Calamine, The Mighty Rime, p:ano, Whispertown2000
wanted song list.. this is a bunch of songs I'd like to get on cdr. There's a ton of songs, from the 50's to the 00's.
I have wishlists at Amazon and Musician's Friend. If you don't have any shows I want, you might pick me up something offa there in exchange for some discs. By the way, I don't mind getting used items from Amazon as long as there's nothing wrong with them.
Plus, I'm sometimes up for "barter" trades.. so feel free to offer me anything you think I might like! Here's a list of some things I'm interested in. The number of discs I'll trade you obviously varies depending on the item's worth and my interest in it, so email me with any offers and we can work something out.
INSTRUMENTS - Virtually any musical instruments, equipment, mics, guitar pedals.
80s TOYS - Star Wars, MASK, G.I. Joe, Transformers, Go-Bots, He-Man, Ghostbusters, Pee-Wee's Playhouse, Micro Machines, etc.
CURRENT TOYS - Figures or plush toys from The Simpsons, Family Guy, Aqua Teen Hunger Force, South Park, Star Wars. Star Wars Legos.
DVD MOVIES - Got any DVD movies/shows you don't want? Feel free to offer them.
VIDEO GAME SYSTEMS - I'd love to get any current/recent gen systems (Wii, DS, N64, GameCube, Xbox360, PS2).
VIDEO GAMES - I might be interested in SNES or DS games. And this is a long-shot.. but I'd love to get a NES Advantage joystick modified to USB for use with a PC.
COMIC BOOKS - Nothing I'm looking for specifically, really, but I'd probably take anything cool, with particular interest in valuable and/or old stuff.
BASEBALL CARDS - Again, particular interest in valuable and/or old stuff. But any baseball/sports cards would probably get my interest.
BOOKS - Hunter S. Thompson, Jack Kerouac, William Burroughs, Henry Miller, Charles Bukowski, John Fante. Also current funny/odd stuff like David Sedaris, Mike Nelson.
MINIDISC RECORDER - Looking for a minidisc recorder to bootleg shows. Preferably with good mic, battery pack, etc. Or a working DAT recorder would also be great.
VIDEO CAMERA - Looking for a small video camera to bootleg shows.
RECORD PLAYER - It'd be nice to have a high quality turntable.
BLANK MEDIA - I can always use new packs of blank CD-Rs or DVD-Rs. I usually prefer the spools of 50 or 100, name brand such as TDK or Sony.
GIFT CARDS - Maybe you received a gift card but you don't really have use for it? I might be interested in trading you for it. Amazon, Target, Best Buy, etc.
...that's all I can think of at the moment. But yeah, feel free to offer me anything.. Whatever cool stuff you've got at your disposal, e.g. if you work at a shoe store, offer me a new pair of shoes. :)
---
Trading Guidelines

[[[CD-Rs]]]
~ I always use disc-at-once*. Please, please use disc-at-once (no gaps between tracks) For the love of everything pure and true, use Disc-at-Once!! If there's one thing I'm really anal about, it's that tracks from a live show must transition seamlessly. That means no gaps (not even little split-second gaps that some programs put in even when supposedly being disc-at-once), no clicks when tracks change, etc.
[* if a cdr on my list says "tao" next to it, my copy has gaps in it (..shit!). you might be able to talk me into editing out the gaps for you, but since it can take a lot of work to seamlessly get rid of gaps, i'd probably rather not.]
Please let me know if something you're offering me has gaps in it or has any other problems I should know about. I try to note any problems in my recordings in the tracklist section.
~ I have a pretty nice cdr burner.. my computer tech buddy who works at a computer store says he never gets complaints or returns on em, which is surprising compared to most others they carry.. so it's pretty trustworthy. But if you think something is wrong with the disc when you get it, let me know. Likewise, please don't send me a badly burned disc (pops, clips, static, etc).. If you have an unreliable burner, give the disc a listen before sending it to make sure there aren't any problems (even if you have a good burner, it's not a bad idea to check out the disc). I do my best to make good quality copies, and appreciate you doing the same.
~ It's a good idea to not copy discs "on the fly". Either rip the tracks first or buffer thru your hard drive (make an "image") when copying a disc (check the box that says, "make a temporary image on the hard disk and copy from there" or something like that). If you don't, you're often prone to getting skips/hiccups. Better yet, a good, free program for extracting from CD is Exact Audio Copy. I really recommend you getting in the habit of using EAC for all your music-copying needs (well, ripping wavs from cds, anyways). Your number of "bad burn" cdrs will drop dramatically. Also, don't be impatient by recording at your burner's top speed, you should play it safe and stick to 4x.. maybe 8x if you have a newer burner.
~ If you are making a cdr from a tape/mp3s/vinyl/video, remember you need to split tracks on precise 2352-byte (588 sample) boundaries. If you don't, you'll get tiny periods of silence or noise between tracks, which can really be annoying. A great shareware program you can use to split tracks nicely for you is CDwav.
~ I can make CDRs from tapes. And mix n' match cd tracks... though I prefer disc-to-disc since it's a lot easier. I most often use 80 minute blank cdrs. I usually combine shows to save space/discs.. for example, if you ask for a 90 minute show and a 50 minute show, I would put the second part of the 90m show on after or before the 50m show. If you want me to do differently, let me know beforehand.
~ A lot of my cdrs have filler on them (related stuff to fill up the disc).. in such cases, please let me know if you want the filler or not. Otherwise, you might get it or you might not. If you want to pick your own filler, that's cool, but please don't go nuts picking a bunch of short stuff.. because that can be a pain for me trying to track it all down (especially with my Frank Black stuff).

[[[videos]]]
~ I usually use TDK brand DVD-Rs or DVD+R. When I "author" them myself, I usually make neat menus for them (as opposed to no menu, or just a default menu). I rarely trade in VHS anymore. Most videos on my list are DVD, though I do still have a few VHS tapes that I still need to get transferred one of these days.

[[[tapes]]]
~ I pretty much no longer trade tapes, but I'll make an exception if you have something I really, really want (like an old show you taped yourself), and are unable to put it on cdr. (I will still give you your wants from me on cdr.. blank discs are much cheaper than tapes these days). In such cases, I'd be happy to convert your tape to cdr for you, assuming you'd trust me and the postal service with it. I'd send you back your tape (if you want it back), a cdr of your tape, plus maybe another disc or two that you wanted from my list.. so just let me know. In those cases, please send your original/master copy for best results. However, if you don't want me to convert your tape to cdr and instead just want to send me a copy, please use new, type II blank tapes (preferably Maxell XLII or TDK-SA) and copy on a dual tape deck, at regular speed, with no noise reduction.

[[[MP3s/swapping]]]
~ Sometimes I do MP3/FLAC trades. Putting a zip file on Megaupload is often the best way to go about it.
~ If a cdr you're offering me is on or sourced from MP3, I'd really appreciate it if you let me know when you offer it. That doesn't necessarily mean I won't be interested, but I'd like to know.
~ I do have a few recordings on my list that are from mp3s. If you're concerned about source info, be sure to check the tracklist page.
~ MP3s are easiest, but if you want to do a lossless online trade, FLAC is ok, but I don't deal in SHN or mess with torrents often.

[[[taping shows]]]
~ Please record live shows! Get yourself a tape recorder, minidisc recorder, DAT recorder, or video camera and tape shows. It's a great way to build up your list, and it's good for the trading community as a whole to have more traders 'giving back', and not just being middlemen. Some tips for taping shows can be found here in my Rilo Kiley section.
~ My audience masters recorded between 3/99-10/09 were recorded with a Sony WM-GX322 tape recorder with external stereo mic. Masters recorded prior to that were recorded with pieces of shit not worth mentioning.
~ Some of my masters recorded after 11/06 were recorded with an M-Audio MicroTrack 24/96.

[[[packaging/shipping]]]
~ I generally do not print out cover/back artwork, nor do I expect you to (but if you want to, cool, go right ahead.) Most of my tracklists are available on my site, you can copy/paste off there. If your tracklists aren't on your list/site, please email them to me if you have them. Please also try to include all the info about the recording that you know (date, venue, source, generation, etc.)
I usually label the discs by including a post-it note or something. Sometimes I just write on the discs, so if you don't like that, let me know first. I personally don't mind if you write on the disc, but I know it bugs some people.
~ I send CD-Rs without plastic cases. I usually put each disc in its own paper sleeve, and send in a package firm enough not to worry about the discs bending or getting scratched. This keeps discs unharmed 99.7% of the time, and much cheaper shipping cost that way.. plus hard plastic cases usually get cracked and broken in shipping anyway. In the slim chance a disc gets damaged, I'd re-do it for you (and I hope you'd do the same for me if needed).
~ Please send First Class or Priority. For non-U.S. traders, please send Airmail.
If you contacted me first, and I haven't traded with you before, I might play it safe and wait until I get the stuff from you before I send you anything. Nothing personal, just to be safe. If you want me to give you references or anything, just let me know. I've been trading since the mid 90s and have never flaked on a trade.


[[[other]]]
~ Gradings: [*] is pretty bad, only hardcore fans should bother with one of those. [**+] is average. [*****] is used sparingly, only for really amazing quality soundboards, broadcasts, or studio tracks. My personal feelings towards a recording may be slightly reflected in the gradings. Like if I think it's a really fuckin cool show, I might bump it up a ½ star. Or down ½ if I thought the show was boring or bad crowd or something.
~ If you're a trading beginner, I recommend you check out the bootleg FAQ for the basics (though it's a bit outdated [1998]). And if you don't know much about making CD-Rs, a very helpful CD-R FAQ is http://www.cdrfaq.org/
~ Ok, that's it. Sorry it was so long. These are my basic rules, but it'd probably be cool with me if you want to do something different, just let me know ahead of time. And if I contacted you first, I'll go by the rules on your list.
Any questions, feel free to ask.



SUMMARY
People seem to miss these points sometimes, so once again:
- Please keep in mind that I'm very busy these days and can't trade with everyone who writes me. If you're not offering something from my wants, I probably won't be into it. sorry.
- Make cdrs Disc-at-Once (no gaps) and buffer thru your hard drive. (preferably using Exact Audio Copy)
- I send cdrs well protected, but without hard plastic cases.
- Let me know if something you're offering is from mp3.
- Please try to be specific when you offer me stuff : what do you got? quality? length? tracks?
- Again, my wants. :)
If all that's cool with you and you want to trade, let me know what you got and what you want.
thanks!
Gavin