Mr.T has to resurrect Pat and Brian so they can finish the show.
With everyone ready, now it's time to finish the show for the kids.
CLICK HERE TO HEAR WHAT HAPPENS WHEN MR.T & WEEZER TAKE THE STAGE! (mp3 - 3.24MB)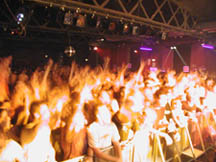 The milk-soaked crowd was left with a moment they'll treasure for the rest of their lives. And it inspired them all to live wholesome, upstanding lifestyles.
EPILOGUE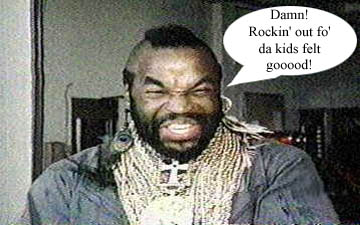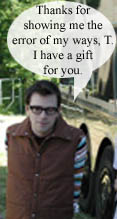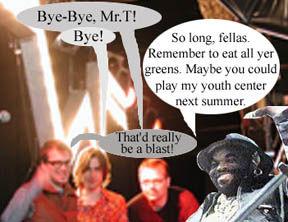 THE END
MR. T vs. WEEZER created by defgav, July 2001
\T/ pics from the Mr. T resource archive
=W= pics from Weezer.com


Links
back to the beginning of Mr.T vs Weezer

Support your champion, Mr. T, in his fight against lymphoma.
Place this gold ribbon on your home page and encourage others to do the same.
"That cancer may be tough, but it's not as tough as me, Mr. T!"